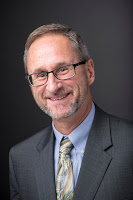 "Actually, it's not just managers that don't listen – it's also employees, husbands, wives, kids, students, teachers, and just about human being with two ears. However, this is a management and leadership resource, so we'll stick with listening in the context of a management skill," writes Dan McCarthy (photo, left) at his website.
"So if listening is such an important management skill and it's an ability we were born with, why do so many managers get feedback that say they are poor listeners? That's an issue I've explored with several managers when I review their 360 assessment results. Here are the seven most frequent reasons, and a prescription for each cause: . . ."
Read the full article . . .